Enjoy The Outdoors More with Outdoor Patio Cover
Alas, spring has sprung! The days are longer, and the nights are shorter.  It's finally time to get outdoors. Enjoy the outdoors more with and outdoor patio cover. If your landscaping needs a makeover, the team at Rich-Way Landscape can get you ready for entertaining.  They have you covered, literally and figuratively, when it comes to building, designing, or installing a covered patio or any outdoor project including outdoor living areas.  
When designing your covered patio, Rich-Way Landscape's landscape architects will help you decide what is right for your space. You have many choices on outdoor structures with Rich-Way, in particular they specialize in building:
Gazebos
Arbors
Decks
Sunrooms
Pool Pavilions
Outdoor Kitchens
Outdoor Fireplaces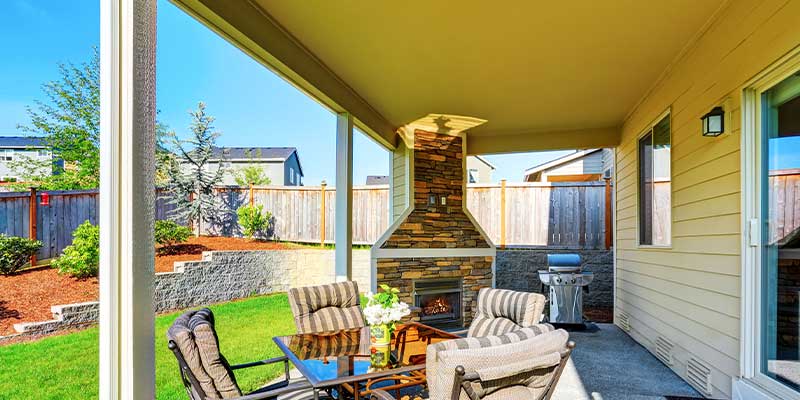 Along with building and designing outdoor structures, they also specialize in installing patio pavers. Patio pavers are what is placed down on the ground to separate your lawn from your patio. When you opt for patio pavers, there are an array of materials to choose from to make your space beautiful and unique. You can choose from:
Concrete
Stone
Brick
Plastic – (the plastic variations have an assortment of designs)
Porcelain
Rubber
If you opt for pavers when installing a new patio space, you should consider going with the professionals at Rich-Way Landscape, as the process can quickly become complicated. Here are few things to consider when laying down pavers:
Have you dug deep enough to prepare the section of the lawn where you want to lay the patio? When digging you need to make you are clear of any power lines or plumbing lines.
Are you laying a solid base? If you do not lay a solid base, you could have problems with proper drainage and shifting of your pavers.
Are you placing the pavers correctly? If your pavers lay too far above surrounding landscape, they could be a trip hazard. If not placed correctly you could also run into problems with them shifting, sinking or warping. Also, aesthetically the design could be off causing it to be visually unappealing.
These are just a few of the scenarios that need to be considered before placing pavers on your own. The landscape architects at Rich-Way Landscape are knowledgeable and creative regarding patio installation. Whether you want an entire deck built or a patio space created, they excel at making your landscape design dreams a reality. Get ready for more outdoor entertaining once the team at Rich-Way helps you with your landscape designs. Rich-Way Landscape is a reputable, professional, and proven company. Many of their clients even have bragging rights, since working with Rich-Way has helped them win Yard-of the Month! Whatever your landscape needs, call the team at Rich-Way Landscape for a consultation at (901) 853-9590.
best outdoor patios, Collierville outdoor patios, comfy outdoor living space, covered patio and landscape, covered patios, covered patios near me, Landscape ideas, landscapers near me, landscaping, landscaping Collierville, landscaping Memphis, landscaping near me, outdoor living area ideas, outdoor living areas, outdoor patios, outdoor patios Memphis, patio ideas, patios ideas, Rich-Way Collierville, Rich-Way Landscape, Rich-Way Landscaping Collierville TN