LANTANA CAMARA 'LUCKY'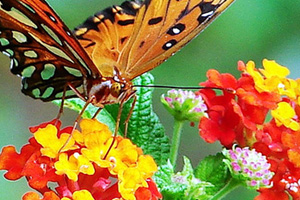 Are you looking for a burst of annual color, but unsure about which route to pursue? It is not too late in the summer to add color without losing your investment. Rich-Way Landscape has just the solution.
A small number of Lantana, specifically the camara 'Lucky' variety, is a great way to add low groundcover to the front of beds without the worry of pruning, cutting back or dividing all summer. Lantana 'Lucky' comes in a multitude of colors, and we can find one that fits the color of your landscape palette seamlessly. These are not your typical lantanas that can reach heights of 3 feet tall. The 'Lucky' variety is propagated as a dwarf form without creating a dwarf flower.
I personally have the full yellow growing in the front of my azaleas at home. It gives a beautiful foreground to the azaleas and provides an elegant backdrop to soften the architectural corners and facades of the house. Even with the recent drought in the Midsouth, I have watered these minimally because they actually prefer to have a dry period between watering. We would be happy to meet and discuss placement and selection options in order to best enhance the beauty of your outdoor living space.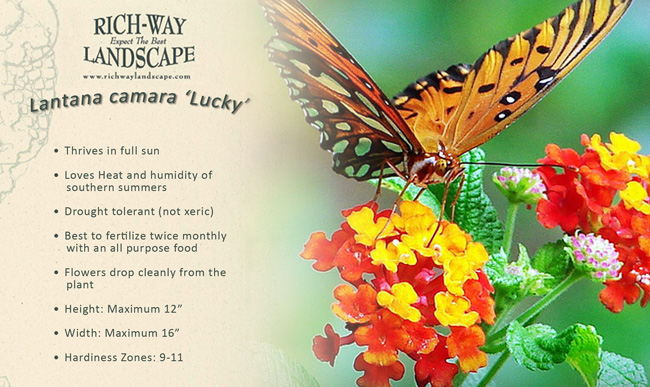 Lantana camara 'Lucky'
Thrives in full sun
Loves Heat and humidity of southern summers
Drought tolerant (not xeric)
Best to fertilize twice monthly with an all purpose food
Flowers drop cleanly from the plant
Height: Maximum 12"
Width: Maximum 16"
Hardiness Zones: 9-11
Written by: Brad Alexander
Bachelor of Landscape Architecture
Rich-Way Landscape